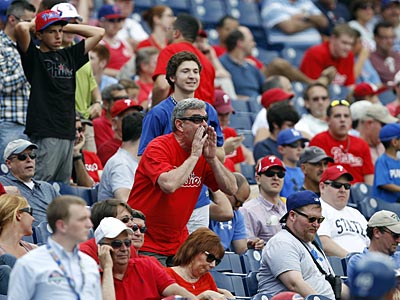 I am Brandon Apter, a writer for Philliedelphia and an avid Phillies fan, and I am sick of your whining.
Please note that the opinion below is my opinion and does not reflect the entire Philliedelphia staff. 
Let me start things off by saying I love baseball. I love the weather it takes place in, the relaxing pace of the game and of course being able to go to a game and enjoy a cold beer with friends. When Spring Training rolls around, excitement is in the air, even for teams that were awful the year prior. Doesn't matter if you are the Red Sox or the Astros, BASEBALL IS BACK. Now to the more specific point...
Just weeks into the spring game schedule, Phillies fans are beginning to bug me. Fans continue to whine and complain about everything, yes...everything. Does it suck when the Phillies don't win and score runs? Sure. Is it irritating that their roster is comprised of primarily older aged players? Yup. Feel free to ya know, not watch and save us all the pain of your "analysis".
Do I pick on every move that they make and make stupid comments about it? Nope. Do I whine about every little thing Ruben Amaro does and blame everything on him no matter what? Nope. Why? Cause it isn't worth it and won't do me any good. I don't think Rube is concerned about what I think or what you think. I mean have you seen the guy on TV? A bit cocky for my tastes.
Point being is that I am sick and tired of Phillies fans complaining about all of this stuff this early into spring training. It probably happens every year, but with the aging core of the team, more fans are wrecking havoc upon social media with their gripes about everything. Of course, I read it all. Here are a few things I cannot stand about Phillies fans so far this season, which hasn't really even started yet.
The team is too old - In case everyone has failed to realize, the Phillies are an old team. Why people continue to make this a point is beyond me. We get it, we all know about it, you can quit posting things about the team giving AARP discounts to players and bringing Jamie Moyer back to pitch. Just please stop. You whining about it makes it worse and makes me frustrated. Ruben Amaro has way too much pride to trade Ryan Howard, get rid of J-Roll and get rid of the rest of the core that Pat Gillick and Ed Wade put together themselves. Why keep whining about something that is not going to change? Because you all think that people care what you have to say and that your "old age" joke might be funny. Reality check, it isn't and it never was. 
"I am sure they will go to a nursing home and find some over aged talent" - YOU ARE HILARIOUS. Hashtag not.
"Both declined Amaro's offers to play for the team, so they chose broadcasting instead. Glad to have them." - reply to Stairs & Moyer joining the broadcast. Your sarcasm isn't entertaining.
Because I am sick of this subject and you likely get the point, let's move on.
Okay, one more to truly understand the lengths these idiots are going to in order to prove their point.
"Sure, I heard they're thinking about digging up Richie Ashburn too" - a response to the question of whether or not Bobby Abreu should make the team.
Know what you are talking about - Here another issue. If you are a fan of the Phillies, you have every right to criticize what they do, but if it isn't factually correct, you should probably keep your mouth shut. That along with no one else really caring what you have to say. I know you likely won't keep your mouth shut anyways, so just keep reading. Earlier today, when news broke about Cole Hamels having a setback, CSNPhilly asked fans who would be a possible replacement. Of course, some bonehead responded with this. "He sucked last year so almost anybody..." Hamels has a 3.13 ERA over the last four years and in 2013, poor offensive production and bad defense made things look much worse for Cole. Did you even watch more than five games man? This person clearly did not even watch more than one Cole Hamels outing from 2013. Let's be honest. So his solution is "almost anybody"? Sure, why not replace Cole Hamels with say....Adam Eaton? Sound good to you buddy? 
"Wow he gets all that big money and now he is hurt??? Another Howard in the works possiably?????"...first off, you spelled possibly wrong. Secondly, how silly are you to compare Cole Hamels' elbow tendinitis to an issue Ryan Howard has had for the past two years. In case you didn't watch the NLCS in 2011, Howard ruptured his Achilles lady. The lack of education that some fans show on the actual Phillies issues is so mind-blowing and it makes me wonder how these people even wake up in the morning. Okay, maybe that is an exaggeration. 
Making stupid comments that you really don't mean. They annoy me. 
"Thats just great. Trade him and howard to the mets for a few boxes of baseballs." - commenter on facebo0k in reaction to Hamels arm fatigue. 
"Trade him he's over rated n no he didn't deserve the WS MVP.. chooooooch shoulda got it" - more Hamels, and fantastic grammar.
....it gets better
"That's why baseball contracts are guaranteed. Likely moving to bull pen"
"Matt Carpenter is already a better 2nd baseman that Utley was" - this is laughable.
Ladies and gentleman, let me introduce you to the stupid people of the world. Comments like these make me cringe because, first of all, they aren't in the least bit comical and actually sound somewhat serious. Secondly, a functioning human being would never suggest such things and third, Cole Hamels moving to the bullpen? Standing ovation for that man. I get that the guy is injured and it was a similar Roy Halladay type injury. Newsflash, Hamels is just 30, much younger than Doc when he experienced elbow issues. Moving him to the bullpen wouldn't be considered in light years. The guy didn't break his throwing arm, calm down. Did I mention he has a 3.13 ERA over the last four seasons? Stupid, stupid. Yes, I know some of you are rolling your eyes and saying "how do you know that he won't have the same issues as Halladay at a younger age"? I don't. This is speculation.
Matt Stairs is boring - After years and years of whining and complaining about the likes of Chris Wheeler, eight games into spring training, Phillies fans are already turning their backs on Matt "Moon Shot" Stairs. I mean this is a truly loving way....shut up. Here is Chris Wheeler in two words - educationally annoying. I am glad Wheels is gone and I appreciate his service, but I am more than happy to embark on a baseball broadcast journey with anybody other than him. Stairs and Moyer? They need some fine-tuning but good lord people, it is EIGHT GAMES into spring training and you are already finding problems with this? Just go away.
Right at the announcement of Moyer & Stairs joining T-Mac, fans were happy.
"I'm absolutely thrilled with this news. Finally, some refreshing voices in the broadcast booth. Really hope Moyer and Stairs don't give those long-winded anecdotes that Wheels was so famous for."
Of course, by now, long into the season *cough cough*, fans are becoming irritated. 
"The Phillies should have turned him down... hes awful!"
"Wish he would've turned down the Phillies offer as well. Dude is garbage. I thought nothing was worse than Wheels/McCarthy/Sarge...boy was I wrong."
I think I can safely say that the last guy is lying, because wishing Wheels was back is an unrealistic thought for the majority of us. The guy has never done color commentary before, so how about you reserve judgement until he gets, let's say...a regular season under his belt. Am I a fan of him? Nah, I much prefer Moyer, but complaining about it ain't worth my time.
Anyways, those are a few things that, at this time, are making me pissed off at you, Phillies fans. How about you suck it up and enjoy some baseball? Support your team through the great times and the tough. I mean seriously, is that too much to ask? If it is, maybe you should put in your application to work for Comcast Sportsnet, since they probably need your knowledge. Not.
If you have any logical complaints, feel free to comment. 
Brandon Apter is a writer for Philliedelphia. Follow him on Twitter @ApterShock